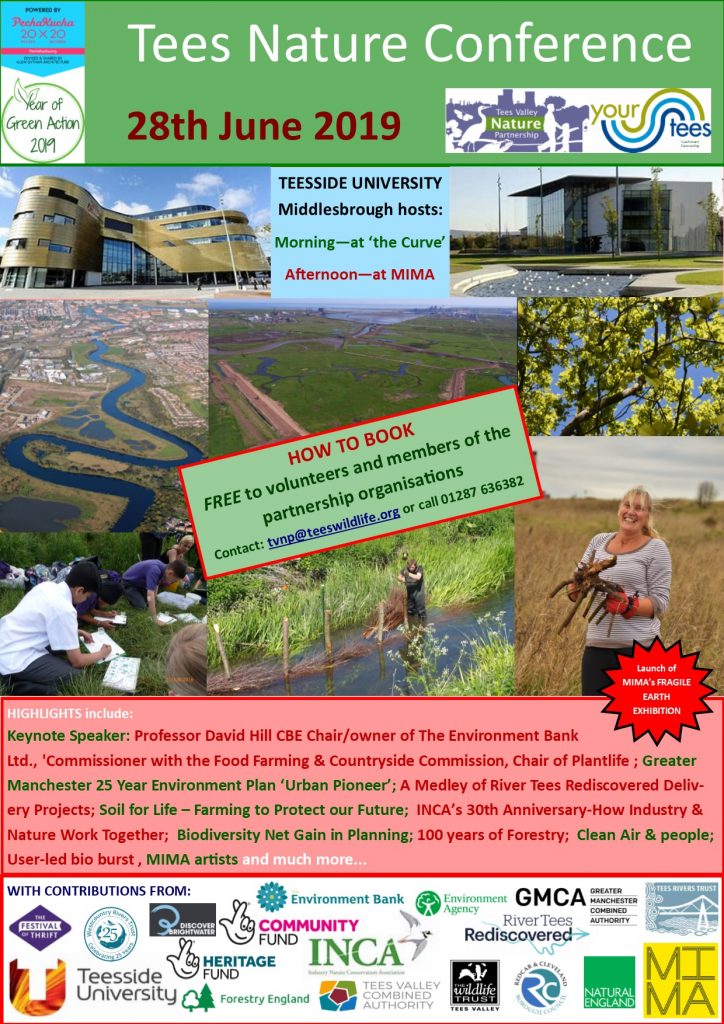 GENERAL:
TEES NATURE 2019 CONFERENCE PROGRAMME: TVNP – YTCP conf prog '19 FINAL
KEYNOTE PRESENTATION: Restoration Economy – David Hill
PRESENTATIONS – NATURAL ASSETS:
Greater Manchester – Krista Patrick Some inspiration from a national 25 Year Environment Plan 'Urban Pioneer'
Research Collaborations – Ed Rollason  with Academia –  Projects are already being developed out of this session!
A Medley of River Tees Rediscovered projects – A celebration of this 5 year Landscape Partnership project.
Tees Estuary Edges – Zoe & Graeme Teesside's rare and rich habitat what's being done…
PRESENTATIONS – NATURAL GROWTH:
100 Years of Forestry – Alan Eves 2019  is the centenary of the launch of the Forestry Commission (Forestry England) find out more.
Local Action Project -Nick-Paling A great project involving local people in determining local policy and action for their environment.
Landscape scale projs – Paul Black A new Landscape Partnership  – Discover Brightwater centred around the river Skerne.
Industry & Nature – Robert Woods & Rob Leck Our very own INCA are celebrating 30 years on Teesside.
Biodiversity Net Gain – Martin O'Hanlon Keep up with the emerging changes to the regulations around biodiversity net gain.
PRESENTATIONS – NATURAL HEALTH & WELL-BEING:
Clean Air – Tracy Hilton & Stella Hall Stella Hall, Director of the Festival of Thrift teams up with Tracy Hilton from Redcar & Cleveland Council to talk about Clean Air
PRESENTATIONS –  POWERED BY PECHAKUCHA

PechaKucha 1 YoGA Graeme Hull & Katherine Birdsdall from the Environment Agency tell us all about the Year of Green Action
PechaKucha 2 Lazenby Woods The largest and newest Tees Valley Wildlife Trust reserve.
PechaKucha 3 Rhur Valley Some inspiration for the Tees Valley from the Rhur valley in Germany
Dee2Tees – Nicole Manley & Dee-poem Nicole Manley, artist in residence River Dee