Low Carbon Economy
National context
The Government is legally committed to reducing the UK's greenhouse gas emissions by 60% by 2050 through the Climate Change Act (2008). The Carbon Plan (2011) sets out how the UK will achieve decarbonisation within the framework of our energy policy to make the transition to a low carbon economy while maintaining energy security. By moving to a more efficient, low carbon and sustainable economy, the UK will become less reliant on imported fossil fuels and less exposed to higher and more volatile energy prices in the future: "For industry the global low carbon market is projected to reach £4 trillion by 2015 as economies around the world invest in low carbon technology." (Carbon Plan 2011)."

In the Tees Valley
The Tees Valley, with its large scale energy intensive industry, needs to significantly reduce its carbon emissions. However Tees Valley is in a unique position to capitalise on the sheer scale of activity and existing integration to not only reduce its carbon, but also to open up new growth opportunities. For example the market for low carbon chemicals has shown strong and steady growth and the global market will be worth $12.2 billion by 2021. Large companies are activelt looking for low carbon plastics and transport fuels, and Coca Cola for example, has launched its plastic coke bottle with plastic made from plants.
Tees Valley can access these new markets by:
Installing one of the world's first carbon capture and storage networks
Investing in heat networks which means the energy that is currently produced by our industry can be put to use by heating homes and businesses
Increasing the amount of chemicals that are produced from household waste and biomass
Tees Valley is already ahead of the game as the location for the National Centre for Process Innovation which is leading the way in producing bio-based chemicals, and the Thermal Technology Centre which demonstrates processes that can turn waste into useful chemicals. In addition the Tees Valley local authorities also have plans to build district heating networks, and Tees Valley Unlimited is working with a range of companies to progress industrial carbon capture and storage.
Not only will the Tees Valley be home to one of the world's leading integrated manufacturing sites, it will also have a world class offshore wind industry. The Tees Valley is already nationally recognised as a Centre for Offshore Renewable Engineering, and already has a UK leading offshore wind supply chain, particularly in the sub-sea sector and cable manufacture. Tees Valley can build on this to attract offshore wind turbine manufacture enticed by available development land and excellent engineering skills.
Offshore wind will not be the only renewable energy generated in the Tees Valley. Waste management plants are also finding the area very attractive. These are not dirty inefficient plants but new, innovative companies such as Air Products which generate energy in a highly efficient way. Rather than seeing carbon reduction as a problem, Tees Valley views it as an opportunity for significant economic growth.
Nature Based Tourism
National context
Tourism is Britain's 5th largest industry, worth c £115 billion pound a year to the economy and employing c 2.6 million people. The natural environment and wildlife are fundamental assets for tourism in the UK. Outdoor sctivities such as walking, mountain biking, bird watching is one of the fastest growing segments of the tourism industry. Maintaining a high quality natural environment and cultural heritage is essential to maintain this growth and interest.
Sustainable tourism requires a balance between the needs of the industry and the protection of landscapes and wildlife. A high quality natural environment is essential to support the sector and, if properly managed, tourism can contribute to environmental protection and conservation and is a way of raising awareness and appreciation of the natural environment.
In the Tees Valley
Tourism is important to the Tees Valley economy. In 2009 it generated over £550 million to the local economy and supported directly or indirectly over 9,000 jobs. The Tees Valley as an area remains relatively new and is an emerging destination, especially for day trips. Nature and outdoor based recreation is a growth sector with RSPB's Saltholme drawing visitors to the North Tees marshes, Guisborough Forest providing a destination for mountain biking, white water rafting at the Tees barrage and windsurfing facilities at Saltburn.
Saltholme – providing a natural draw to the North Tees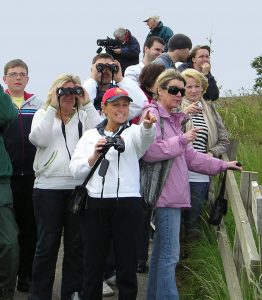 Saltholme is a multi-million pound investment that delivers benefits to both people and the environment through the creation of the flagship RSPB Nature Reserve and Discovery Park. Opened in February 2009 after several years of work creating and improving ponds and other habitats, the reserve provides a state of the art 'green' visitor centre and restaurant and a network of access routes and viewing hides. In its first year of opening, the centre attracted 85,775 visitors. The reserve has given a significant boost to the Tees Valley green economy and is changing perceptions of the North Tees as a place where people can enjoy wildlife thriving in an industrial landscape. Analysis of the impact on the local economy of the nature reserve in 2010 found that day-trippers spent £7.47 per person per trip in the local area, whilst holiday makers spent £70.13 and that the reserve supported 30 local FTE jobs.