Record numbers of visitors mark Festival of Thrift's return this year.
Visitors flocked to this years' Festival of Thrift in their thousands as the nationally renowned celebration of sustainable living made a hugely welcome return to the village of Kirkleatham near Redcar.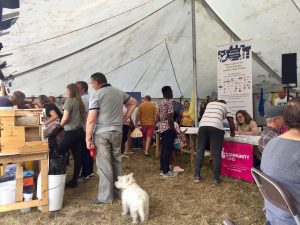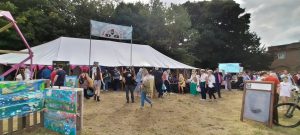 A record-breaking 50,000 festivalgoers from all over the UK enjoyed a packed programme of performances, activities, workshops, talks and stalls alongside stalls from ethical independent traders at the award-winning event which focuses on bringing people together to have fun and share ways to live without harming the planet.
Tees Valley Nature Partnership hosted the "Enlightentent" which was the talks tent at the festival with talks including: The Build Up to Greener Construction, Why we Oughta Treasure our Water, Seaspiracy – Fishing for the Truth, Rewilding – What is it all about? And does it really matter?, and much more.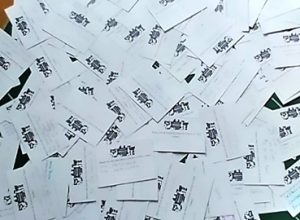 We also asked festival goers at the Festival of Thrift at our information stand using our postcards (left) and our Eco-Ambassadors:
What do you love about nature in the Tees Valley?
Where do you visit nature in the Tees Valley?
How can we improve nature in the Tees Valley?
An awe-inspiring aerial performance above an island of discarded rubbish, a thought-provoking contemporary dance recreating the sound of the sea with waste plastic, a fashion show with stunning outfits created from discarded denim and charity shop finds, parkour performers on scaffolding and dynamic dancers inspired by the thrifty dressing of the gentlemen of the Congo were amongst the highlights enjoyed by visitors. Festival of Thrift director Stella Hall said: "This weekend has proved that you can have a local-rooted and community owned event that also has lasting regional and national impact.