Theme 3: Natural Health & Well-being – Reconnecting people and nature.
Our ambition: To contribute to people's health, well-being and overall quality of life by providing greater opportunities to enjoy, understand, benefit from and take action for the natural environment.
Our priorities:
6. Engage with local communities to ensure that their views are reflected in the activities and priorities of the Partnership, and that they understand the opportunities offered by the natural environment on their doorstep
7. Make positive contributions towards the health and well-being of local people by demonstrating the opportunities that better access to and use of the natural environment can provide.
The role of the natural environment in maintaining healthy lives – headline facts and evidence base:-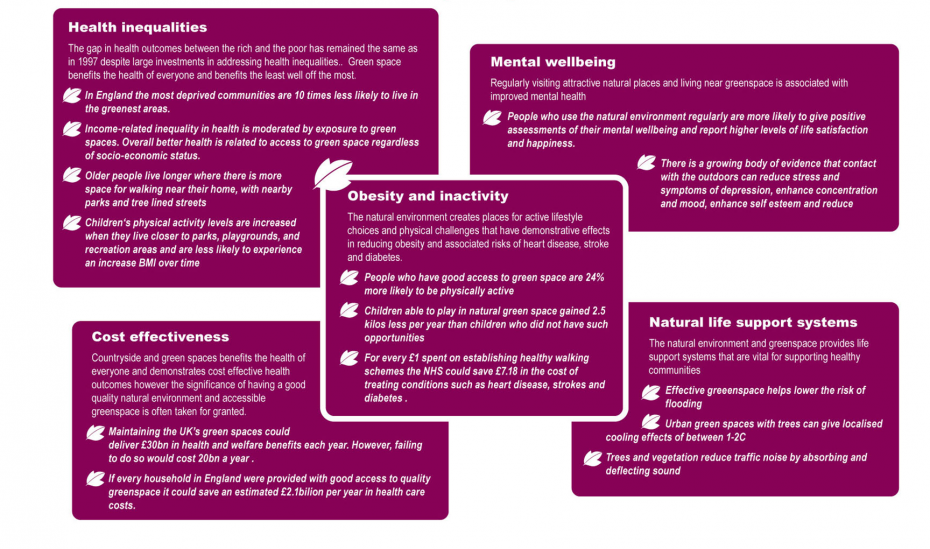 Useful links:
PRESENTATION BY OUR HEALTH & WELL-BEING MEMBER:  Overview of Public Health & Health Care System
EVIDENCE BASE FOR THE VALUE OF NATURE TO HEALTH & WELL-BEING:
Good practice in social prescribing for mental health, the role of nature based interventions. Natural England report 2017
Connection to Nature: evidence briefing from Natural England
Links between natural environments and learning: evidence briefing from Natural England
Links between natural environments and mental health: evidence briefing from Natural England
Links between natural environments and physical activity: evidence briefing from Natural England
Links between natural environments and physiological health: evidence briefing from Natural England
Links between natural environments and obesity: evidence briefing from Natural England
Methods, Glossary and Evaluation Resources: evidence briefing from Natural England